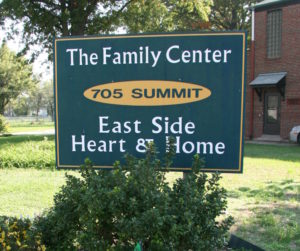 The Family Center was founded in the fall of 1993 when Vincent Gray Alternative High School closed its doors. Recognizing that the closure of the high school was a significant loss for the Olivette Park Neighborhood of East St. Louis, Sister Carol Lehmkuhl collaborated with the residents of the area to determine the needs of the community and to identify the first mission statement of the Family Center: to build supporting and nurturing relationships that recognize and emphasize each person's inherent dignity.
Two years later in 1995, East Side Heart & Home Housing was developed as an effort to construct quality, affordable housing for low-income families in East St. Louis. Although the Family Center and East Side Heart & Home often collaborated with each other, the two organizations remained separate until January 2013 when they merged and became East Side Heart & Home Family Center.
For almost 30 years, our organization has remained actively engaged with, and committed to, the city and people of East St. Louis. Once a booming industrial city, East St. Louis has experienced unparalleled decline since the mid-twentieth century due to racism, corrupted politics, deindustrialization, and extreme population decline. East Side Heart & Home Family Center seeks to alleviate poverty and create social change by stressing togetherness and cooperation between people of all backgrounds. In our programs, volunteers and staff members of the Family Center work alongside East St. Louis residents to build and sustain healthy communities to cultivate positive changes for themselves, for their families, and for the city of East St. Louis.